Information technology (IT) industry is growing at an incredible speed. Hundreds of new technologies are being created each day. These inventions are products of past ideas. In fact, behind great discoveries are stories of failure and victory which surely feed the curious minds of tech lovers like you. Now, innumerable IT industry fun facts and stories all over the world tickle our minds. However, the industry is so massive, we cannot hear every single story. So, it's time to learn these tech fun facts!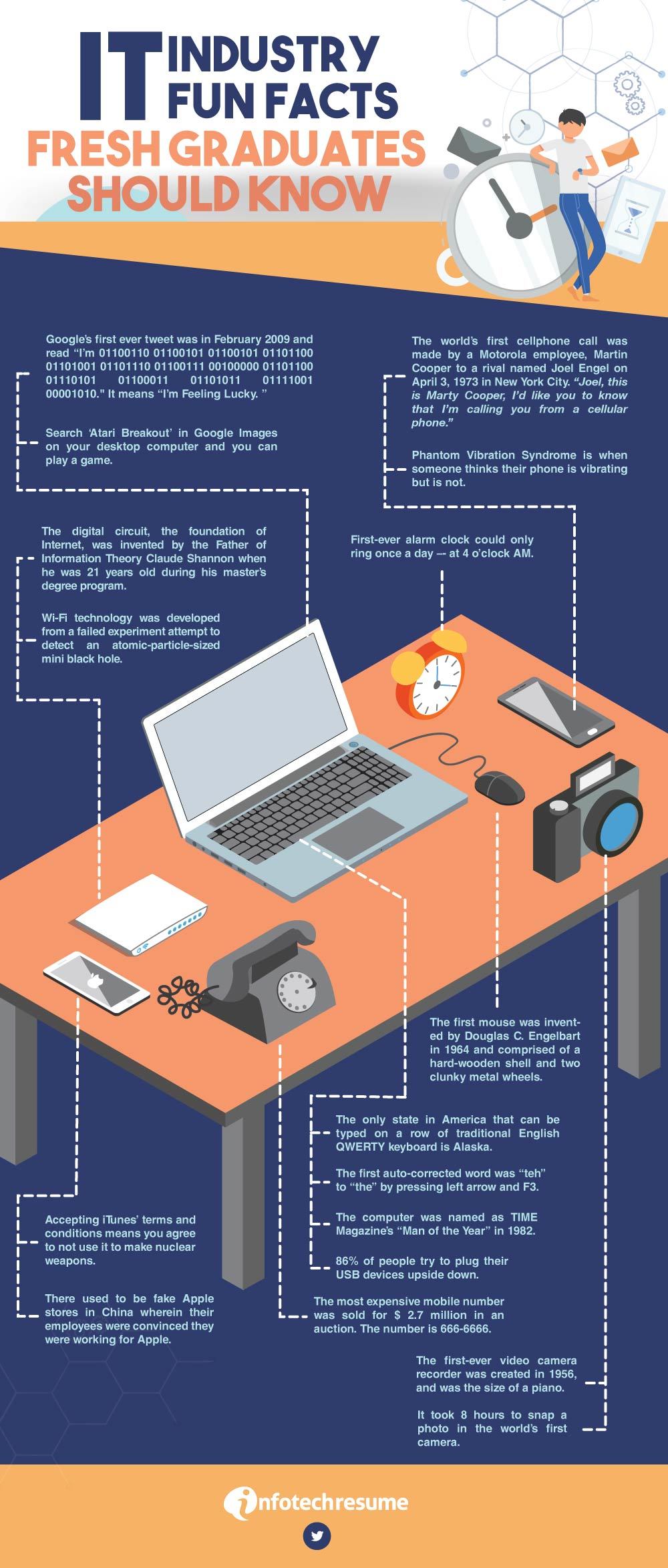 Download a copy of this infographic here.
Amazing IT Industry Fun Facts for New Graduate's Fresh Career Start
Not all IT graduates are as passionate and curious as you. Some people think IT profession is uninteresting and discouraging.  But certainly, these fun facts would bring their interests back. Aside from showing the industry's rough beginnings, these facts will also make you realize that you can be a great influence in the future. In order to succeed in the future, you should know what happened in the past. So, as a user and a future developer, your knowledge about technology facts is an edge in your career. They'll surely further deepen and widen your interest in your field.
Moreover, Forbes listed IT as one of the most in-demand jobs now and in the future. That said; the workforce needs more IT experts. The IT amazing stories prove the industry's interesting side. Yes, working on the industry is tough but it surely is rewarding. It ensures employability and financial stability.
Finally, success is a result of hundreds of failure and disappointment. Keep reading more IT industry fun facts. They'll inspire you to start your career now. If you want to ace your job application, make sure to hire our expert resume writers. InfotechResume provides quality service to ensure employer callbacks. We also provide articles helpful for your career. Contact us now!
Sources: websitemagazine.com | lifebuzz.com | thefactsite.com | mytechnotunes.in | logicaldost.com| theatlantic.com