Each job seeker's experience is unique, so the journey of job hunting may look and feel different for everyone. As an entry level job hopeful, you might face a couple of challenges as you try to land your target job. One of such is how you can craft an entry level IT resume that speaks volume of your potential as a newbie in the tech field, what you can bring to the table, and how you'll be a valuable member of an organization.
Since your resume is one of the most important job search tools you need to have in your arsenal, putting in the time and effort for it is a must. Don't worry, as we've curated helpful tips for you to get started. In this guide, know more about the tech field's career outlook, how to write an entry level IT resume, some frequently asked questions (FAQs) about resume writing, and how you can seek expert help for your job search tool writing needs.
Information Technology Career Overview
As per the US Bureau of Labor Statistics (BLS), the overall career outlook in computer and IT jobs is expected to grow 15% from 2021 to 2031. Such growth is considered faster than the average for all jobs, and can result in about 682,800 new jobs in this 10-year period. Apart from this trend, the opportunity to fill new roles is due to the need to replace retirees, career shifters, and others who leave their jobs permanently.
These notable data contribute to the fact that more and more continuously consider building their career in the field of tech. As various sectors in the IT industry continue to innovate how people consume tech, the demand for IT professionals will remain.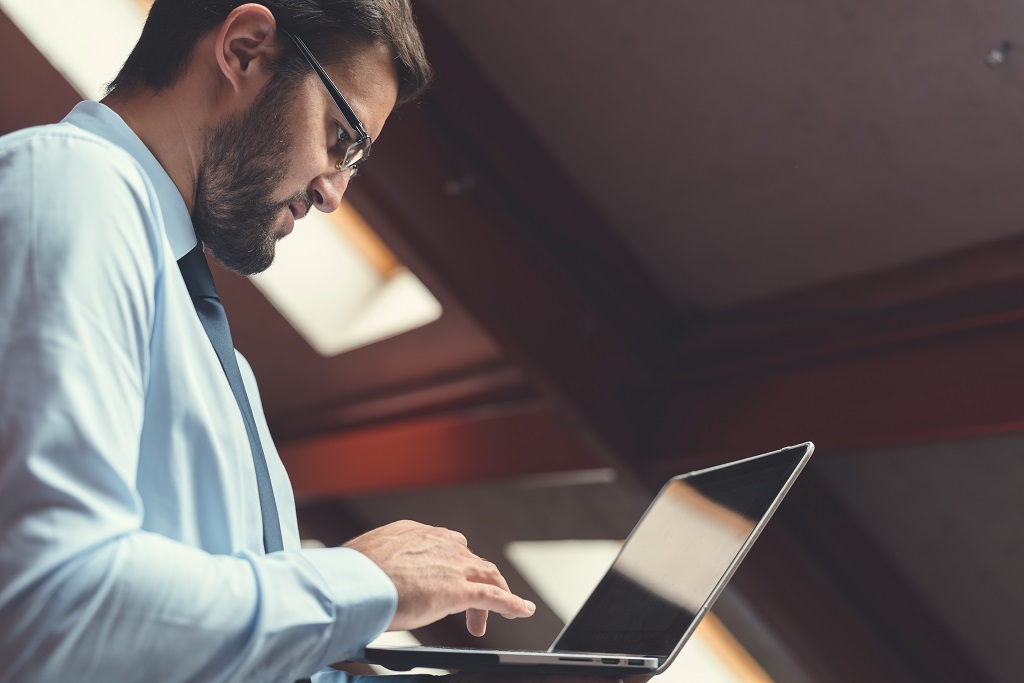 How to Write and What to Include in an Entry-Level IT Resume
Some of the most important skills in the tech field are attention to detail, innovation, and creativity. Hence, the said skills should reflect on your job search tools and overall job application. To help you with that, refer below for a checklist on what sections and elements you must include and some tips on how to properly write them.
Contact Details
This portion must be found at the topmost part of your resume. This informs the recruiter and hiring manager who you are and how to contact you in case they have clarifications or to let you know of their screening decision.
Since this is what your readers will most likely see first, make sure it's professional, neat, and organized. Put your full name, working email address, contact number, and mailing address (if needed).
As you're applying for an entry level job, you must ensure you catch the attention of the readers by making a great impression right off the bat. You can do this with a powerful resume intro. One way to ensure a well-written one is to choose and opt for the most appropriate way to start your resume.
Since there are various ways on how you can write your intro, you must first know which best suits your job level and nature of work experience. These three are the most common ones you can choose from:
Entry level IT resume objective – This is considered the best choice for entry level job seekers. Usually 2 to 4 sentences long, this intro is tailored to a specific role or job post being applied for by those who have little to no work experience yet.
Entry level IT resume professional summary – For those who are shifting careers or aiming to land a job in a different field, this is the best one to write. This puts more emphasis on your skills and feats over your experiences.
Entry level IT resume qualifications profile – Serving as a brief outline of your key strengths, skills, and work history, this option can help you if you're a seasoned IT pro.
Resume Format
While this isn't a specific section in your resume, this is something you must wisely choose when crafting your job search tool. Similar to your intro, this can be determined based on your job level and the kind of experience you have in your chosen field. Here's a quick guide on the various formats you can choose from:
Chronological – This format lists your work history from the most recent one working your way backwards. Also, this is the most widely used format in almost every job or industry.
Functional – This lets you focus on your skills and strengths to help you remove the spotlight on your work history for various reasons, such as career gaps.
Hybrid – Lastly, the hybrid type combines your impressive background through years of experience and set of skills you've built. Under this resume format, resumes can be presented either using a combination of chronological and functional formats, or a targeted approach that highlights related job tenures and downplaying irrelevant jobs.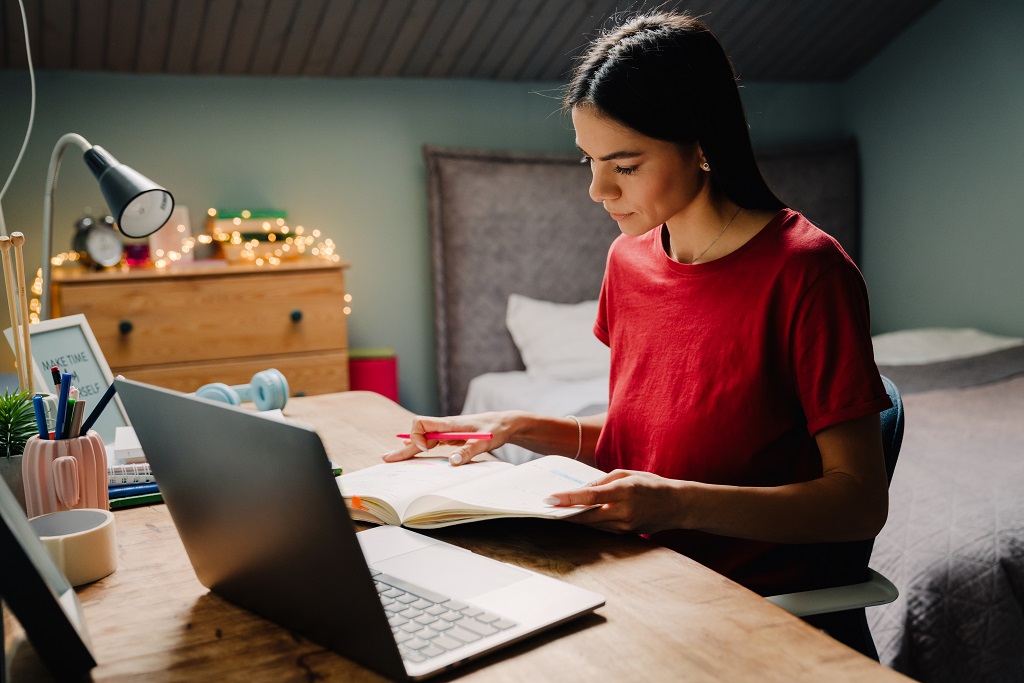 Work History
Talking about your work experiences, it's helpful to use entry level IT resume action verbs. This way, you're showing your readers how important your contributions are through the weight of the action words you used.
For this section, you must also be mindful of the verb tense you'll use in describing your roles. The IT resume tense you must use depends on the type of role you're talking about: whether present, past, or future. For your current job or roles, you must use the present tense. For the roles you held in the past, make sure to use the past tense. Lastly, the future tense is rarely used and is best for describing roles you want to achieve or land in your target company.
Education
You must also mention your academic background to help solidify your background as an IT aspirant. For this part, list your school's name, location, degree, and weighted average.
Training and Professional Development
Got any learning and training achievements? Did you take up advancement courses to improve your IT skills? You can also opt to include a section for these in your resume. Don't forget to mention the course or training name, from who or what organization you took it, and if you received any feats or awards.
Skills and Technical Acumen
The recruiter and hiring manager must also be aware of your competencies that'll help prove your qualification for the job you're aiming to land. With this, make sure to list your entry level IT skills for resume, such as:
Data Management
Business Analysis
Technical Reporting
Debugging
Back-End Development
Network Structure and Security
Front-end Development
You can also mention your top soft skills that may be helpful in the job you're aiming to land. Some examples include the following:
Time management
Project management
Collaboration and teamwork
Continuous learning
Critical thinking and problem solving
Curiosity
Leadership
Entry-Level IT Resume Example
Now that you're familiar with the basics on how to write an entry level IT resume, here's a resume sample of what it looks like and how the sections and components are carefully laid out to guide you better: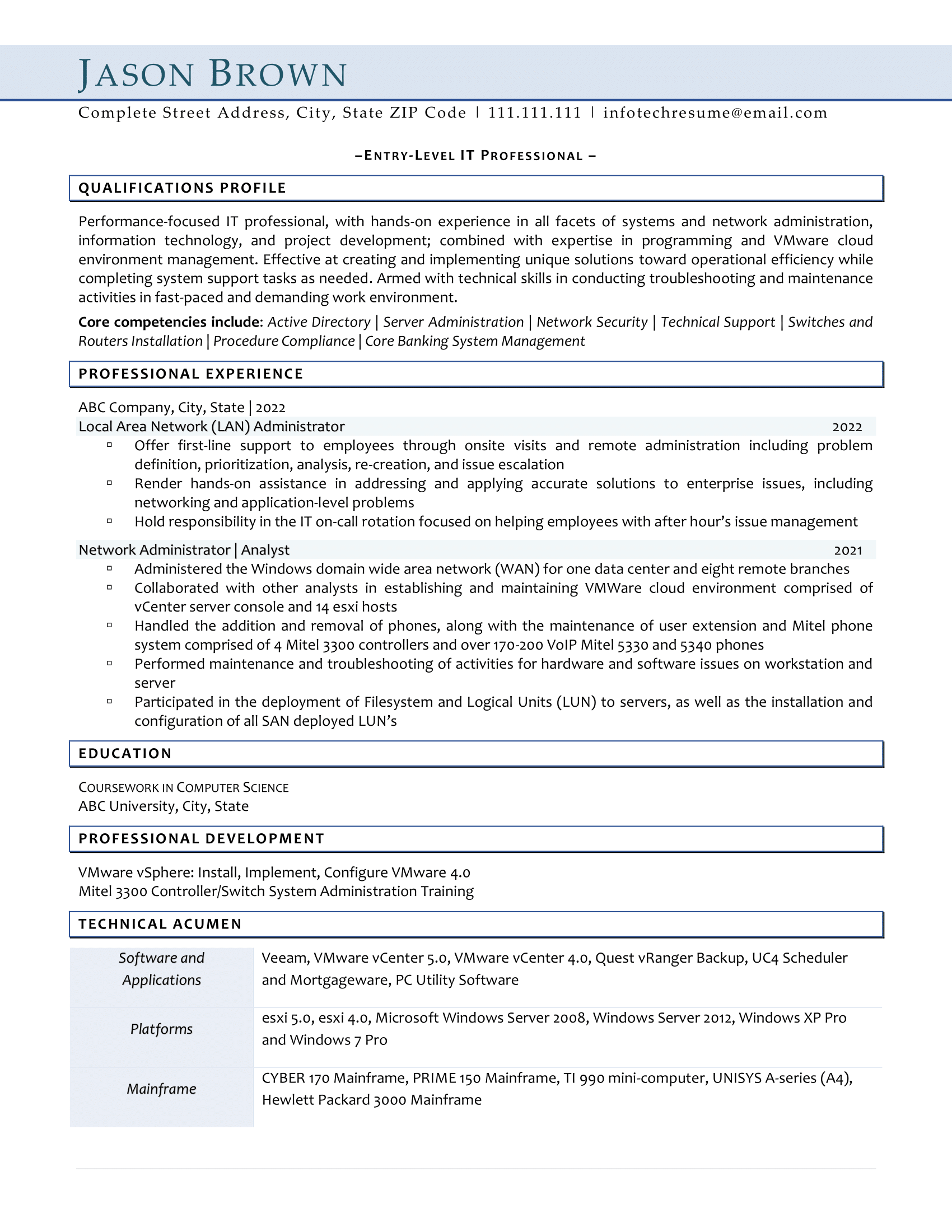 Download a Copy of the Entry-Level IT Resume.
FAQs About Entry-Level IT Resume Writing
Is it Bad to Have a Two-Page Resume?
While having a two-page resume isn't entirely a bad thing, it's highly encouraged to keep it to one page for conciseness and to avoid getting your file incomplete due to missing pages. After all, an entry-level IT resume entails an application that has little to no experience at all.
Also, note that hiring managers and recruiters only have so much time in their hands to scan resumes. With this, it might be better for you to write and submit a one-page resume to help your readers make sense of your profile quickly or in just one glance. In some cases, however, having two or more pages for a resume is acceptable, especially for those with extensive career backgrounds.
Are Professional Resume Writers Worth It?
If you believe you're not confident in your resume writing skills, asking for expert help may be the best way to go. Apart from having a skilled pro take care of your entry level IT resume, you can also ensure that your job search tools are more effective, well-written, and targeted to the job you're vying for as an entry level job applicant.
In this sense, working with professional resume writers is worth your money as long as you choose the most trusted ones, weigh the pros and cons of your choice, and make the most out of the service you're paying for.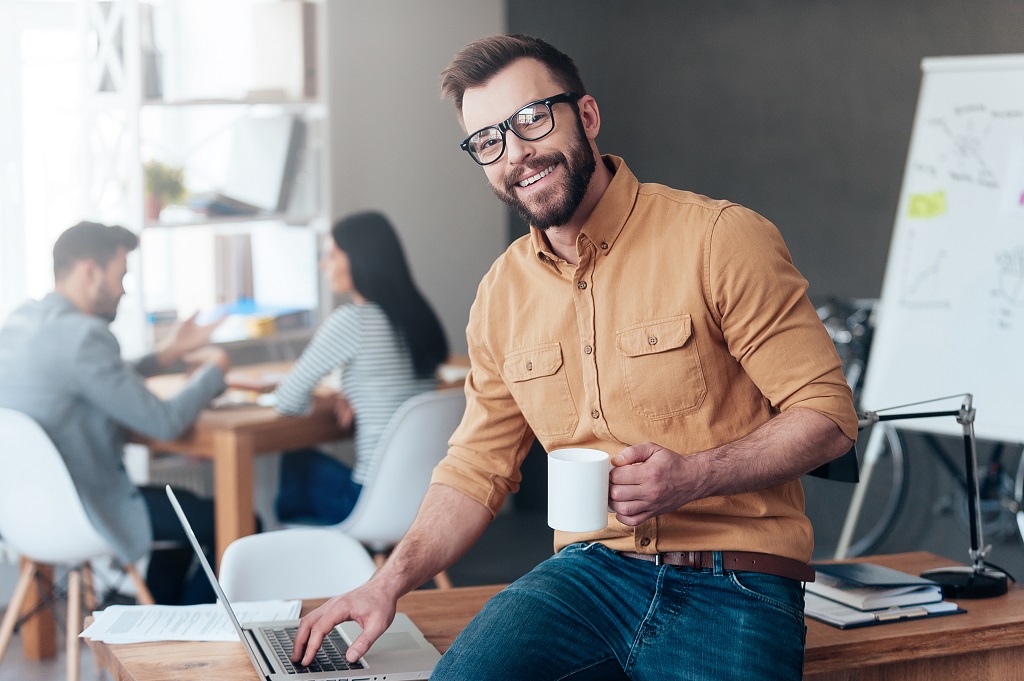 Hire an Entry-Level IT Resume Writer
As an entry level job seeker, you may or may not be aware of the various hurdles you may face in the job market as you vie for your target job. Add to that the challenge of writing your own resume to ensure you get the attention of recruiters and hiring managers.
The good thing is, you can let professionals take care of your entry level IT resume needs. Check out the best IT resume writing services from Infotech Resume and reap the rewards of having your job search tools well-crafted by career experts!
For other queries or if you need more help on how to get started, contact us today.