Your resume is the gateway to your next career move as a solution architect, a role that demands a unique blend of technical expertise, creative problem-solving, and effective communication. As you dive into the world of information technology, your solution architect resume is your blueprint. It showcases your ability to design and implement complex solutions that address the most pressing business challenges.
However, creating a solution architect resume that stands out and speaks to your qualifications can be a daunting task. To help you navigate this crucial step in your career journey, we've created this guide to provide you with the insights and strategies necessary to craft a solution architect resume. In turn, not only will you be able to highlight your technical skills; you will also better show your ability to align technology with business objectives.
So, whether you're just starting in this field or are a seasoned professional seeking new opportunities, the tips, best practices, and a solution architect resume example included here will guide you in building a resume that sets you on the path to success in your chosen field.
What is a Solution Architect?
A solution architect is a professional responsible for designing and overseeing the development of complex technical solutions to meet specific business needs. They play a crucial role in the field of information technology and are involved in various industries, including software development, cloud computing, and system integration.
With a healthy job outlook for solution architects between now and 2032, pursuing a career in this field might be a rewarding decision for job hopefuls like you. But what exactly does a solution architect do?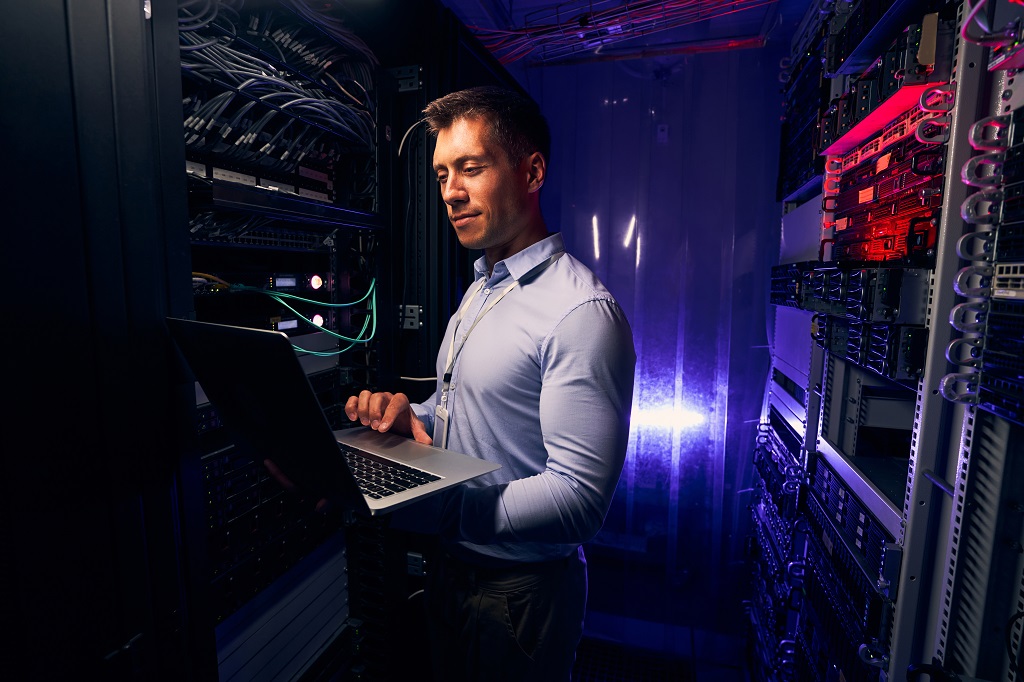 What are the Responsibilities of a Solution Architect?
The roles a solution architect plays encompass a broad range of technical and non-technical tasks, all aimed at delivering a well-designed, effective, and efficient solution that meets the organization's needs and objectives.
Furthermore, responsibilities can vary depending on the organization and the specific project. Nonetheless, here are common ones associated with this job:
Requirements Analysis – Understand and analyze the project or business requirements, including functional and non-functional requirements, to ensure the technical solution aligns with organization's goals.
Design and Planning – Create a detailed solution design, including architectural diagrams and technical specifications; and plan the implementation of the solution by selecting the appropriate technologies and platforms.
Technology Evaluation – Continuously evaluate and research new technologies, tools, and frameworks to determine their suitability for the project and recommend the adoption of relevant technologies.
Architecture Development – Develop overall system architecture, defining the structure, components, and their interactions, to ensure it aligns with industry best practices and standards.
Risk Assessment – Identify potential risks and challenges in the project, such as security, scalability, and performance issues; and develop strategies to mitigate these risks.
Documentation – Create comprehensive documentation that includes architectural blueprints, design decisions, and technical specifications to serve as reference for development and implementation.
Quality Assurance – Oversee and participate in quality assurance (QA) processes so that the final solution adheres to the intended architecture and design principles.
Cost Management – Consider budget constraints and cost-effectiveness when designing the solution, and make recommendations to optimize resource utilization.
Security – Ensure that the solution incorporates security best practices and complies with relevant regulations and standards to protect data and systems from potential threats.
Scalability and Performance – Design the solution with scalability and performance in mind, so it can grow and handle increased workloads as the organization's needs evolve.
Adaptation and Evolution – Stay updated with emerging technologies and trends, and be prepared to adapt the architecture to address changing business requirements and technological advancements.
Compliance – Ensure that the solution complies with relevant industry standards, legal requirements, and company policies.
Collaboration – Work with cross-functional teams, including developers, project managers, business analysts, and stakeholders, to ensure that the solution aligns with project goals and stays on track.
Mentorship – Provide guidance and mentorship to junior architects and development teams to help them understand and implement the architectural vision.
Communication – Coordinate complex technical concepts to non-technical stakeholders, project teams, and executives.
Problem Solving – Address technical challenges and issues that may arise during the project's development and deployment phases.
Continuous Improvement – Promote a culture of continuous improvement by seeking feedback, learning from experiences, and implementing lessons learned in future projects.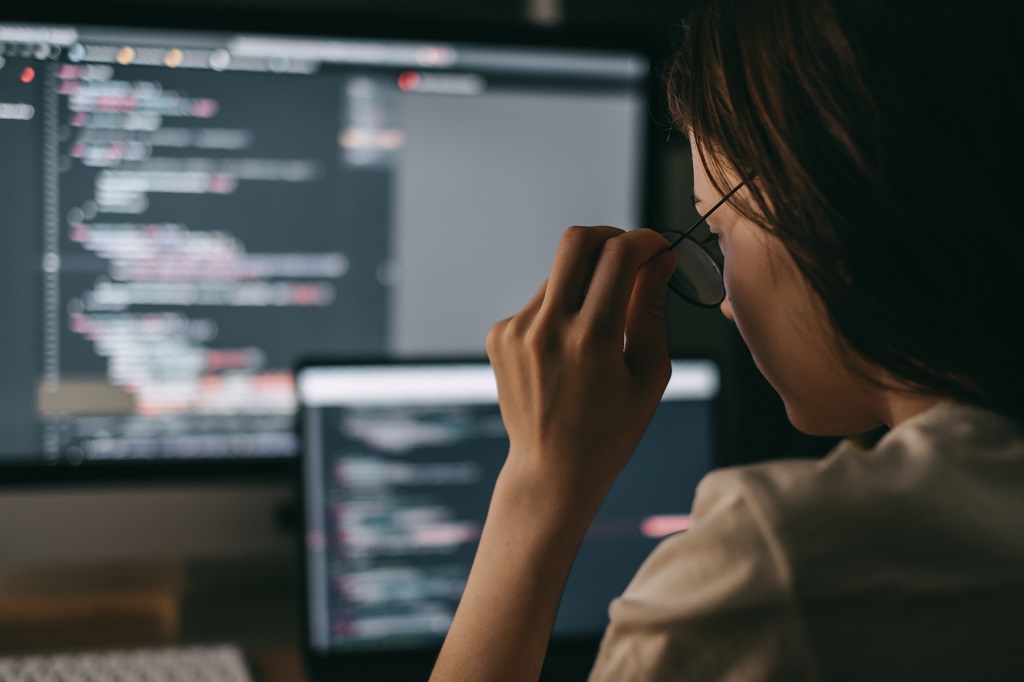 How to Become a Solution Architect
Becoming a solution architect is a rewarding journey that requires a combination of education, experience, and specific skills. As you work your way toward building a career in solution architecture, here are the key steps you can take to guide you on your path:
Educational Foundation
Start by pursuing a bachelor's degree in a relevant field such as computer science, software engineering, or information technology. This provides you with the fundamental knowledge needed to understand the intricacies of technology.
Also, you can pursue a master's degree in a related field, which can further enhance your expertise and make you stand out in the competitive landscape of solution architecture.
Practical Experience
Begin your career in IT or software development with entry-level positions like software developer, system administrator, or network engineer to give you hands-on experiences and help you build a strong foundation in technology.
Apart from that, you can consider specializing in a specific area, such as cloud computing, database management, or security, to help you become an expert in a particular domain.
Training and Certifications
Pursue certifications like AWS Certified Solutions Architect, Microsoft Certified: Azure Solutions Architect Expert, or Google Cloud Professional Cloud Architect to allow you to gain and provide proof of your expertise in specific cloud platforms.
In addition, attend training programs, workshops, and courses related to solution architecture to stay updated with the latest industry trends and best practices. Later on, you can include these credentials in your solution architect resume to solidify your expertise in your field.
Soft Skills
Since solution architects need to convey complex technical concepts clearly to both technical and non-technical stakeholders, you must develop strong communication and interpersonal skills.
Often, solution architects also encounter challenging technical issues that require innovative solutions. Hence, your problem-solving and critical-thinking skills should be honed.
Strong Portfolio
Volunteer for projects that involve system design, architecture, and planning. Building a portfolio of successful projects can showcase your practical experience to potential employers.
Skills to Include in Your Solution Architect Resume
When crafting your resume as a solution architect, it's crucial to showcase a balance of hard and soft skills that make you a well-rounded and effective professional in this role. Here are the key IT skills to highlight:
Hard Skills
Architectural Design
Cloud Computing
Database Management (e.g., SQL, NoSQL)
Security Expertise
Coding and Scripting
Soft Skills
Communication
Problem-Solving
Leadership
Adaptability
Project Management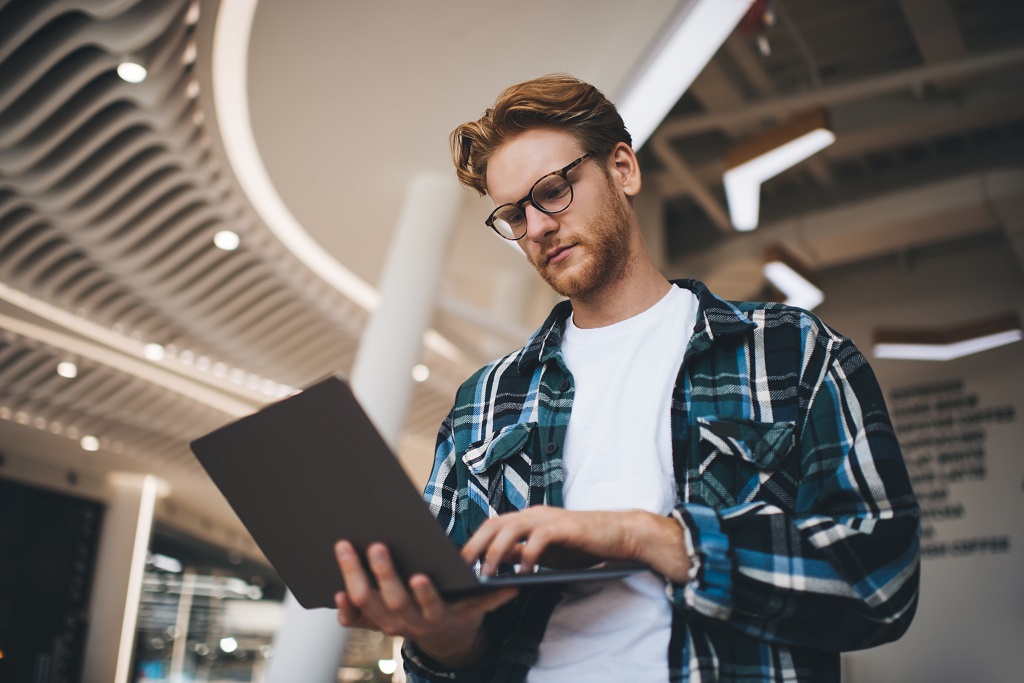 How to Write Your Solution Architect Resume
Writing an effective IT resume is crucial to showcase your skills and experiences to potential employers. In this case, follow these key steps on how to write a solution architect resume that highlights your qualifications:
Choose a clear format.
Select an appropriate resume format that suits your career history. The most common format for solution architects is the chronological format, which lists your work experience history in reverse chronological order, starting with the most recent. This format allows employers to easily see your career progression and the relevance of your previous roles to the position you're applying for.
Highlight key sections.
Organize your solution architect resume into distinct sections that help employers quickly find the information they're looking for. These sections should typically include:
Contact Information
Solutions Architect Resume Summary or Objective
Professional Experience
Skills
Education
Quantify your achievements.
Use concrete numbers and metrics to quantify your accomplishments in your professional experience section. By providing specific results-oriented statements, such as "Led a team that reduced system downtime by 30%," you demonstrate the impact you've had in previous roles. Also, these quantifiable achievements help employers understand your contributions well.
Tailor your resume.
Make sure to customize your resume for each job application. Do this by focusing on your key accomplishments and experiences that align closely with the specific job description.
Then, incorporate keywords and phrases from the job posting to ensure your resume passes through applicant tracking systems (ATS) and demonstrates that you're a strong fit for the role.
Proofread and edit.
Thoroughly review your resume to ensure that it's error-free, consistent, and easy to read. Pay attention to grammar and spelling, maintain consistent formatting, and use clear and concise language.
It's also advisable to avoid using overly technical terms that may not be familiar to non-technical readers, ensuring clarity and accessibility in your resume.
Solution Architect Resume Example
Now that you're aware of the basics on how to write your resume for a solution architect role, here's a resume sample of what it looks like and how the sections and components are carefully laid out to guide you better: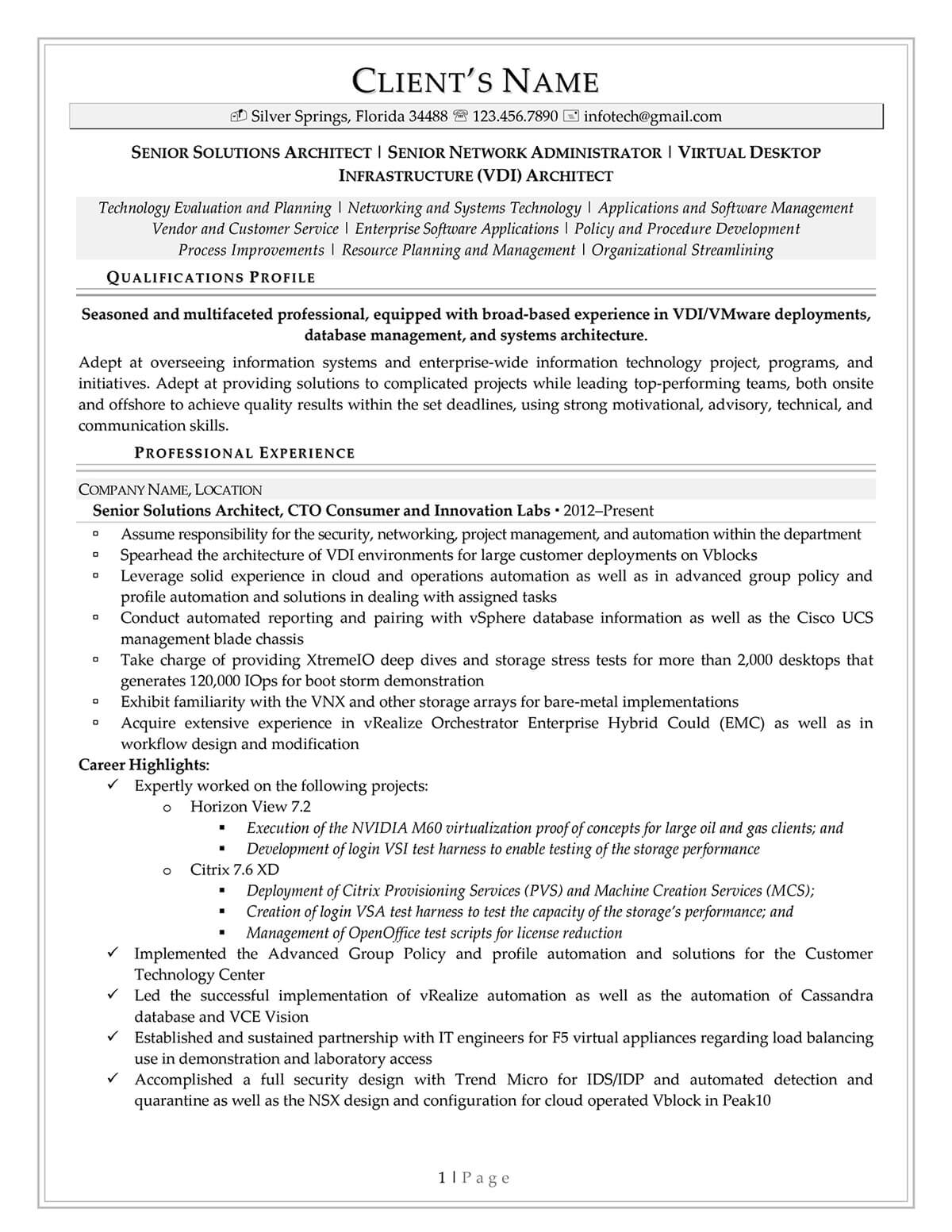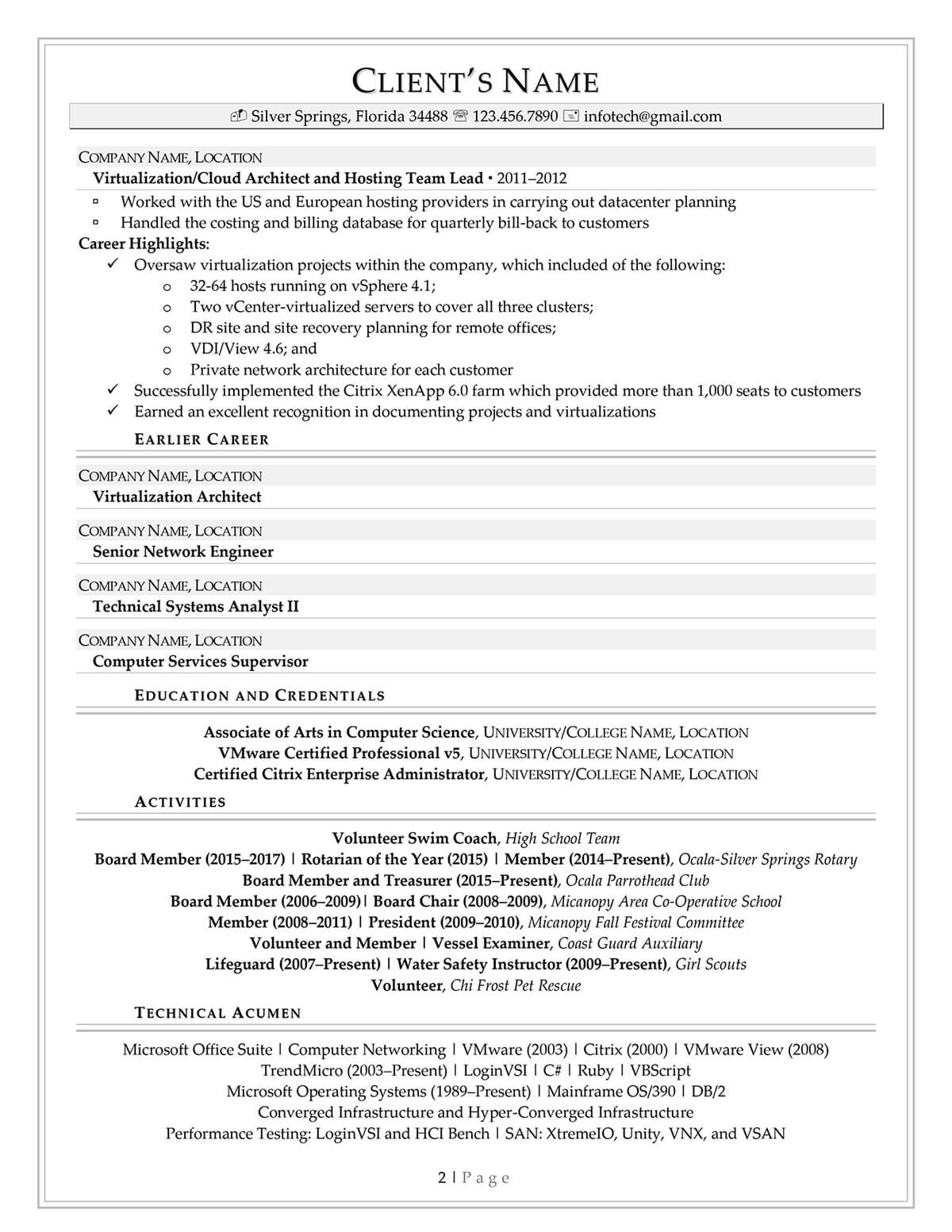 Let Expert IT Resume Writers Take Care of Your Job Search Tool
Being in a lucrative and competitive field of solution architecture, there may be a lot of hurdles you may face in your job search. Add to that the challenge of writing your own resume to ensure you get the attention of recruiters and hiring managers.
The good thing is, you can let professionals take care of your resume needs. Check out the best IT resume writing services from Infotech Resume and reap the rewards of having your job search tools well-crafted by career experts!
For other queries or if you need more help on how to get started, contact us today.